Two years ago I addressed the terrible sump drainage.  At the time we bought the house, an old vacuum hose had been stuck to the output and draped across the lawn and out into the yard.  It was and ugly and inefficient solution, so I dug a trench instead.
The trench worked and looked much nicer, but had a tendency to fill in with debris.  I concluded then that I would use the plethora of unearthed bricks (which we uncover every time a shovel is stuck into the ground) and pave the trench, my reasoning being that the reduced friction would channel the water faster and flush out anything in its way.  And it would look nicer, and hopefully hold up better.
Additionally, I planned to sink a small recess to hold some of the water to give it time to soak into the ground–a rain garden, more or less.  I installed something similar on a downspout, but it was gravel and I don't want that look in the garden.
And so I dug until I had the desired pit.  Then, as I began placing bricks, the sump pump clicked on and flooded it.  Perhaps I should have unplugged that before starting this project.  Ah well, I'm not one to allow simple forces of the universe, in this case hydrodynamics, to interrupt me.  I continued.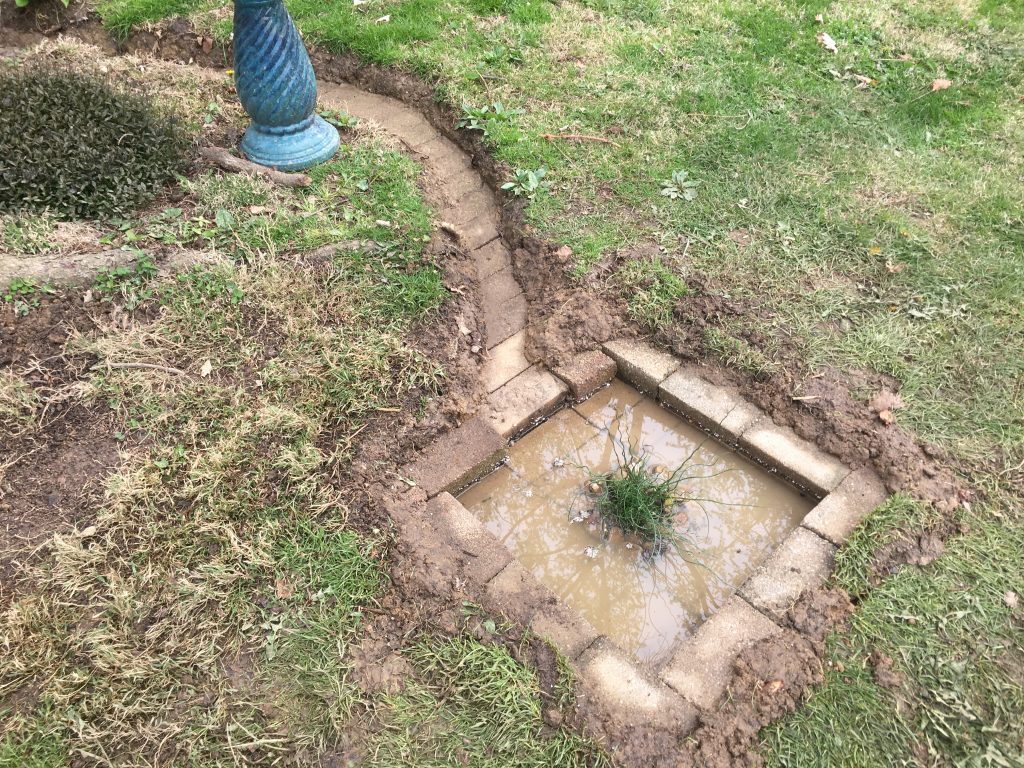 When full, it looks like a reflection pool.  It's also accumulating mud because it hasn't dried out yet with all the Spring rain, so I can't clean it.  And it's overflowing constantly.  What I should have done was dug out a deep dry well and filled it with rocks, then arranged my bricks on top of that.  Whatever redesign I decide upon, one thing is certain–it needs more capacity.  I will, no doubt, be revisiting this.
–Simon