According to generic web searches, a riding mower with blade engaged emits between 87.7 and 95.4 decibels.
According to the CDC's Occupational Noise Exposure whitepaper, the foundation for OSHA standards, the maximum allowable time that should be spent in such an environment at this sound range is 4 hours to a mere 37 minutes and 48 seconds.
Consider the louder end of this range.  A neighbor mowing 50 feet away at 95 decibels would drop by roughly 24 decibels to a perceived volume of 71 decibels–approximately the sound of a normal talking voice.
So, if you're one of these lawn-riders, for the duration of your landscaping endeavors, your neighbors hear the equivalent of some guy in your face going: "Blaaaaaaaaaaaaaaaaa."
And if you're also of the persuasion that you should mow at a slow meandering pace to maximize the possibility a passerby will notice that you have the means to spend a couple thousand dollars on a luxury power equipment item, you're extending your exposure time.
And, if you're also one of those aging men who think it's cute to hold your young son/grandson while piloting your luxury power equipment item at a slow meandering pace, you're also exposing him to unsafe noise levels.
Point being, you're annoying your neighbors and likely damaging your multiple peoples' hearing.
And you're a douche.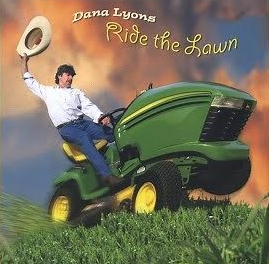 –Simon