As a non-football watcher, I've spent many a conversation pretending to have watched something I didn't, or to care about something I don't, and to use grammatically unsound complex sentences of negation.
At first, I would maintain the charade as football fans, when discussing football, are complete conversational narcissists, and would never notice that I wasn't adding anything meaningful to the conversation.  These one-sided discussions would invariably crescendo to an emotionally-charged climax, upon which I would just agree with whatever was said last and laugh, which in turn led to some mutual conclusion that escaped me because I don't watch football.
Now, I just don't care enough about garnering favor with random people at the coffee station, so I don't humor the smalltalk anymore, or so was my intent.  Unfortunately, a surprising majority of people take the dismissive comment to be a joke (for what kind of American doesn't watch football?), and interpret it as encouragement–thus putting me into the conversation anyway.
So I decided that, as it's been said: If you can't beat 'em–kill everyone.  Or rather, inwardly sigh sadly and pretend to follow along.  But I need assistance.  I need information…obtained through any other means than reading, watching TV, or conversing with my fell Man.
I needed an aggregator and summarizer.  I needed the absolute bare minimum content required to form a cohesive thought.  I needed the equivalent of a Twitter feed of sports commentary, but without the racism/sexism/homophobia (the entire social aspect, basically).  I needed a means by which to trawl football articles and identify the most-used words, negating general sentence structure such as definite articles and conjunctions.
Fortunately I found this site: wordcounter.net.  Probably not its intended use–I began pasting the top football news articles into its form and analyzing their content.  I checked 5 such posts, and compiled their keywords: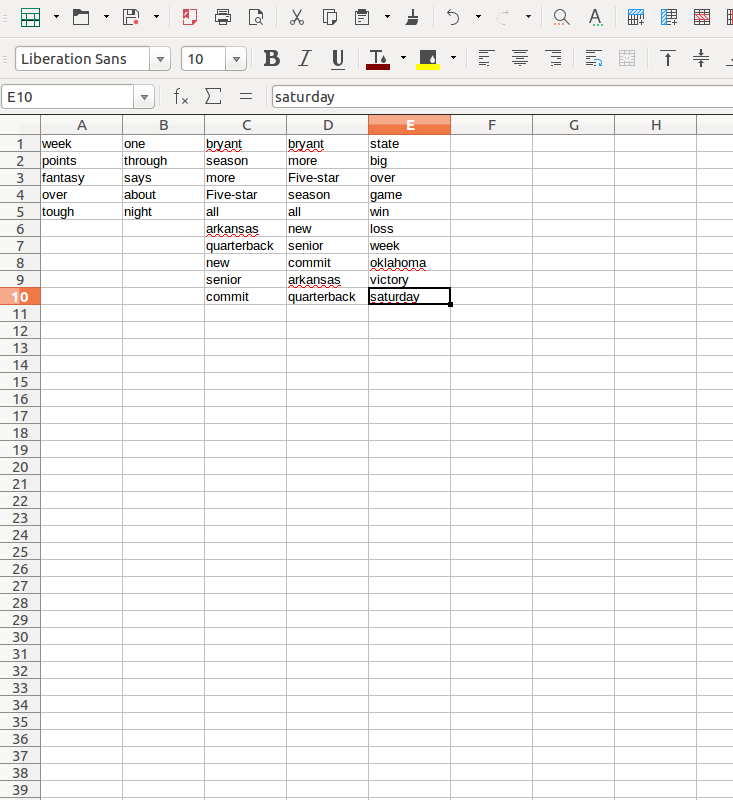 Okay, I could work with this.  This Bryant fellow seems to be a highlight.  I'm sure I could muddle through the rest.
I decided to test my theory on Liz, and texted her the following message:
"I heard that in Bryant's week one, he scored enough points that it'll be his big season.  He'll make a good five-star Fantasy Football pick.  Despite the initial loss, Arkansas will recover with enough victories to stay in the running."
Liz responded:
"What are you reading?"
She was intrigued!  Had I pulled it off?!  I replied, ambiguously:
"Just the highlights."
She validated my success by sending me an unrelated photo of a dog that was up for adoption.
…Okay, maybe my method needs a little refinement.  Maybe I can pull a larger sampling of articles and write a formula to analyze the character strings.
Or maybe, just maybe…when I tell you I don't watch football you could stop talking to me about football and I wouldn't have to design a logic-based analysis of textual media to formulate responses to your banal and pointless rambling.  Now quit hogging the coffee machine.
–Simon